FLY CASTING AND TROUT GUIDING

If you found this page through a search engine click here for the main site
Fly Casting Lessons I Trout Boat fishing on Chew and Blagdon I Trout Guiding at Barrow Reservoir

Trout recipes by popular request. Microsoft word doc...Gravadlax....Trout Beline...Smoked Trout Broth...Trout and baby leeks with crushed potato and tomato butter
"Mike is a member of the GAIA (Game Angling Instructors Association) and has been fishing the various waters around Blagdon - including Chew and Barrow reservoirs - for many years. His expertise on the lakes is put to good use when he takes out individuals for a days fishing.....the advice he imparts will catch fish in all but the most extreme conditions. He's confident, simply because he's good." Tom Henry, Bristol Evening Post. Saturday, July 14,2001
GUIDED TROUT BOAT FISHING, CHEW AND BLAGDON.

A great way to fish when you can't cast far, and a great day out!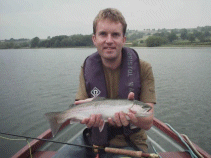 If you can cast fifteen yards, which shouldn't be a problem after a couple of casting lessons, and want to catch your first trout. A days guided boat fishing is for you. Learn how to read the water to set up a good drift. Which flies to use for fishing in front of the boat whilst drifting. This covers lots of water and lots of fish. Or, when the trout are located anchor up and fish with nymphs or dries.
Towards evening watch the water come alive with trout, having a last feed as the sun sets. Cast emerger imitations to them, and watch them take the fly. This is a magic moment.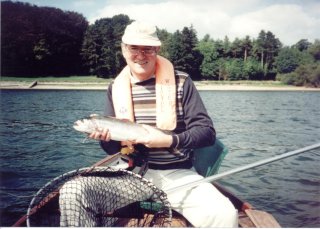 Sandy with his first trout on the fly. 3lb12oz Blagdon Rainbow

A DAYS GUIDED TROUT BOAT FISHING
You can choose between the beautiful and quiet Blagdon reservoir where boats are rowed or use silent electric motors. Or the larger impressive Chew Valley Lake, a bit noisier as the boats need petrol outboards (due to the size of the water). Both waters offer excellent fly fishing and chew has a restaurant if you fancy a break for lunch, or there are some nice pubs nearby.
Boats are allowed out at 10am and don't have to return until one hour after sunset. Costs are for a full day or part thereof. A guided day out could see you with your first trout like Bill (picture below).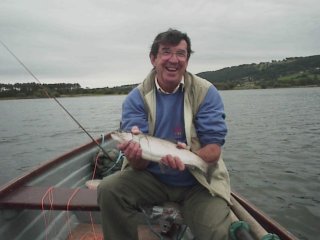 Costs include use of tackle , all flies and your day boat ticket. The only extras are your Environment Agency Rod Licence (Day ticket or full licence available from any Post Office, or Woodford and Blagdon Lodge) and your refreshments.
Blagdon Day £125.00 Chew Day £130.00. For your personal trout fishing day out phone me on 01275 810443 or e mail mikehobbs@proangler.co.uk
Back to top

TROUT GUIDING AT BARROW RESERVOIRS.
Any new water can be a daunting prospect. Just outside Bristol on the A38 are the Bristol Waterworks Barrow Reservoirs. Whilst not as attractive as the better known Chew and Blagdon reservoirs, they still provide excellent fly fishing sport with a bonus. You don't need waders!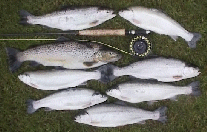 Many would be Barrow Anglers are put off by lack of knowledge as to which of the three "tanks" to fish. When that choice has been made they still have to decide where to fish, what line and which flies to use. As a season ticket holder (1999 to 2003 average 4.9 fish per visit) fishing three or four times a week I can answer the question, "Which tank, which bank"?
But it doesn't stop there. I have a number of very successful fly patterns, the Barrow fish seem to be more educated than trout at other waters and won't fall for the sometimes large and relatively crude nymphs used there. Knowing which flies are catching at the moment, and the best flies for the "tanks" as a whole will put fish on the bank at every visit. This type of knowledge is gained by spending hundreds of hours getting to know the water. The only shortcut is to learn from a guide who has spent thousands of hours fishing the venue.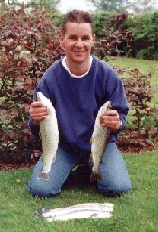 A DAYS TROUT GUIDING will take the form of an assisted fly fishing trip. I will fish with you pointing out fish holding areas on all three "tanks", advise on fly selection, (if you don't have the correct pattern one will be supplied F.O.C.. As the "tanks" have high banks (when the levels drop) your fly casting will be assessed and corrected if necessary along with the balance of your rod and line. It will cost £50.00 for a single adult, special rates are available for father and son.
Pictured right is Dave who caught five brown trout on his first guided trout fishing trip to Barrow reservoir. All tackle and flies were supplied as it was his first outing in five years.

Barrow Day tickets (8 fish limit) for the 2007 season are Full £12.00, and are the responsibility of the angler. An EA Licence is also required, Day ticket or full licence available from any Post Office, or Woodford and Blagdon Lodge

Back to top

Theory of casting, Standard Casting , Double Hauling and Steeple Casting. Assessment.
*Please note that casting tuition is best done over grass, hence the venue.*

Venue...............................Nailsea.
Tackle..............................Supplied. Own tackle may be used and will be assessed for suitability.
E.A. rod licence...............Not required
Fee...................................£20.00 per hour

Back to top

If you found this page through a search engine click here for the main site