Fishing in the Maldives
Reef fishing for Bonefish---Deep Sea Fishing---Marlin
I recently went on holiday to the Maldives, specifically Kanifinolhu on the North Male Atoll. These Island are idylic and abound with fish of all types.
---
Reef Fishing for Bonefish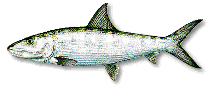 I have long had an ambition to catch Bonefish on the fly. I searched the internet and e.mailed the hotel for information on my forthcoming venue, but could find nothing. The sandy flats around these island should be the perfect habitat. Maybe they had not been discovered there yet. It seemed possible as the new center for Bonefish (the Seychelles) was not fished until 1998. My hopes were high.
I tied dozens of flies, bought a suitable reel and line, and carefully packed my rods ready for the trip. I left England in the snow and after 24 hours travelling found myself on a white coral beach, with Jacks and Giant Trevally chasing baitfish just ten yards out!
The suitcases had not even been unpacked, I was shattered from the journey but had to have a go at those fish. Full of anticipation a trotted of to the seashore a whole fifty yards. The Germans had beaten me to it, they were out there swimming. So feeling a little dissapointed I returned to my chalet, after all I still had ten days.
The roomboy was waiting to introduce himself and was fascinated by the thinnest fishing rod he had ever seen. I explained what it was for and my intention to fish off the beach. THEN CAME THE BOMBSHELL THAT RUINED MY HOLIDAY. Fishing within the reef is not allowed on any resort island, THERE IS A FINE US$500. I shall be having words with KUONI about that. YOU HAVE BEEN WARNED!
Back to top
---
DEEP SEA FISHING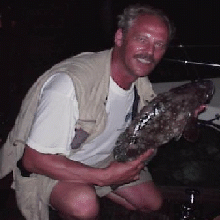 I was rather fortunate to see a note on the notice board at the hotel regarding deep sea fishing at night. One of the guests (RAF Sam) was looking to get a boat together. Four anglers were required to spread the cost of a trip and make it financially reasonable. The going rate is £100 for three hours which includes tackle hire, bait and the time taken to get to the mark and back. I had taken a thirty pound class, all rollered boat rod and matching reel with me for Marlin fishing. It was just as well as the hire rods were pretty beat up and the reels were no better. We set off into the sunset, anchored and fished 300mtrs from another island. By deep sea they meant 15mtrs deep. Before it got dark we could see our baits on the bottom and the fish attacking it on the way down!

Once darkness fell the sport started in earnest. First small red grouper and red snapper, then a better mottled grouper and some surgeon fish. The activity must have attracted Barracuda as I was twice bitten off on the drop. As there were no wire traces available I stepped up to a 120lb hooklength, that too was bitten through after a twenty yard run!
The Barracuda then left us alone and a decent stamp of red snapper moved in and we all caught well, eventually running out of bait.
The snapper were cooked and served up later that evening on the beach, very tastey.