COMMON BREAM
(Abramis brama)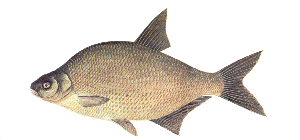 If you found this page through a search engine click here for the main site
General
Because of their distinctive shape, it is understandable why a bream of the maximum length of up to 80cm is called a dustbin lid. It certainly wouldn't be a kid, probably nearer the (max) age of 18 years and one of the few to attain the rarely exceeded 14lb in weight.
Where to fish in the Bristol Area
The Bristol Avon holds a lot of Bream. Odd fish can be picked up almost anywhere as they move between feeding areas, to get a good bag you must know where they live. There are many well known swims. One very good area is known as the "Donkey Field" in Bath, it is just above the Rotork stretch which produced the match record of over 120lb for Clive Raynor.
To the south of Bristol, the River Kenn at Clevedon has good Bream. In the summer they can be found in the lower pegs near the sea wall. In the late winter they start to move upstream to spawn in the Old Kenn and Black ditch. There is a feature on the Kenn under day ticket waters
Another good Bream venue is the Huntspill near Bridgwater.
Methods and baits
Bream love a sweet flavour and will often switch on if you put down a bed of groundbait such as beet laced with caster and or squatt. Fish a groundbait feeder over the top of this with a cocktail bait of, worm and caster or maggot, to a size 16 hook. Double red maggot also works well as does bread and more frequently now, sweetcorn.
The above is a brief outline. If you require more help please contact me, Mike Hobbs, and we may be able to have a day out together catching fish.
Back to Fish Chart
---