CHUB
(Leuciscus cephalus)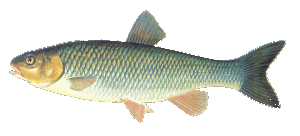 If you found this page through a search engine click here for the main site
General
Our longest lived species, except for the eel, can reach a maximum of 22 years. Rarely exceeds 60cm. and 6lb in weight although a few fish can reach 7lb.
Where to fish in the Bristol Area
The Bristol Avon holds Chub throughout it's length. The important thing when aiming at this species is being able to spot fish holding areas. Look for far bank features such as fallen trees, bushes, faster water below weirs, in fact almost anything which is different from the normal river is worth a try. I know many hot spots from Conham, right out to Limpley Stoke, and beyond to the confluence with the Frome, (a prolific water in it's own right).Most of these swims are covered by Bathampton or Amalgamation club tabs and are available on day ticket. For free fishing in Bristol check out Conham River Park on the Free Venues page.
The Bristol Frome through Frenchay and Eastville also holds Chub, day tickets are available from any Bristol tackle shop.
Methods and baits
The most popular and easiest method for Chub is the maggot feeder. It is important to balance the feeder so that it just holds bottom, this allows for a good clear drop back bite indication. Start with a size 18 hook with single or double maggot bait. If bites slow down, be prepared to go down in size to 20 then 22. If bites still aren't forthcoming, try luncheon meat on a size 12, this will often winkel out one or two bonus fish.
My favourite method is long range waggler. You must feed very regularly to get the fish going. Chub will often come up in the water so a rig of strung out no.8 shot will provide a better presentation as your bait will fall through the water at a more natural rate. Count how long it takes for the float to settle, if it does not dot down when it should stike! If this happens it is likely the fish are up in the water and you should shallow up, sometimes they may be feeding at just 18". Keep changing the depth until you find the fish.
The above is a brief outline. If you require more help please contact me, Mike Hobbs, and we may be able to have a day out together catching fish.
Back to Fish Chart
---