PIKE
(Esox lucius)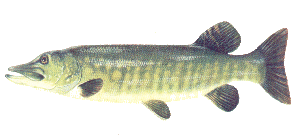 If you found this page through a search engine click here for the main site
General
Our freshwater answer to Jaws can reach 30lb, although this would be a female, as males tend rarely to exceed 10lb. With a maximum age of 18 years and reaching up to 130cm., this is a top predator.
Where to fish in the Bristol Area
Cheddar reservoir is well known for it's prolific head of Pike. However Chew Valley Lake has opened for the first time this winter. Both bank and boat anglers have had excellent sport with many doubles, the largest being 38lb.For a smaller scale venue the River Kenn at Clevedon can provide several fish per visit.
The Bristol Avon also contains plenty of Pike, the problem is finding them. A good way of locating Pike hang outs is to walk the bank when there is a match on. On a large winter league match there can be up to 144 anglers, as they try to catch Roach etc. some will experience Pike attacks as they bring the fish in. Find out which angler has had this problem, and where they were pegged, and you have found your quarry.
Methods and baits
Dead baits such as spratts and small trout can be fished in various ways. Either under a suitable float, wobbled back in a similar fashion to spinning, legered or simply freelined depending on the casting distance required. A very pleasant way to fish is walking the bank, rod in hand, on a crisp winters morning. A few plugs, floating and sinking, landing net, unhooking mat, a pair of forceps and possibly scales are all that is required. Work your way downstream, have a few casts in any likely looking spots before moving on down to the next. This will allow you to cover a lot of water and therefore give a much better chance of putting a fish on the bank.
The above is a brief outline. If you require more help please contact me, Mike Hobbs, and we may be able to have a day out together catching fish.
Back to Fish Chart
---