Oasis Playa Coco 2008
Another great holiday in Cuba with many fish. I am still finding new fishing spots and methods even after six years! There are new experiences and stories to tell each time I go to Cuba.
The one that got away (nearly)!
Morning of my second day and already one lure down to a Barracuda thanks to the ceramic guide on my multipliers level wind coming out causing the braid to bed in. A repair with super glue and I was wading off the beach trying out the reel. George and Adel came along in the Hobie cat and plucked me out of the water "Come on Mike, we go fish"!
I never even had time tell my wife, she just waved from the sun bed as we disappeared into the blue. I was told they wanted six Barracuda for friends. We trolled around for an hour and had four and a dinner sized Red Snapper. George said he had found a wreck that had good snapper, it was a secret spot. So secret he had trouble finding it! As we approached the wreck he said "Be ready" at that an almighty thump on my rod and the clutch on the reel came in. Five minutes and 150 yards of line later I had made no impression on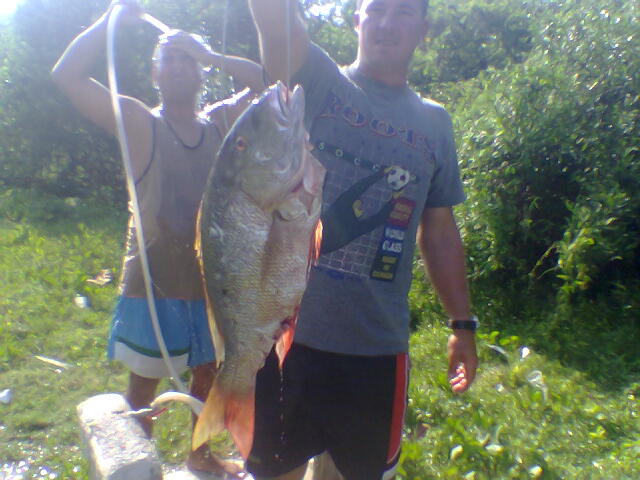 this fish. We had to keep it away from the wreck but I was running low on line. George turn towards the wreck and everything went slack. A few quick winds and I was back in contact, but only for a few seconds, the snapper had found it's sanctuary and 30lb parted. Another lure gone and with no replacement on board we headed back in. I had been gone for two and a half hours, but at least I had a fresh snapper for lunch for myself and my long suffering wife Jane.
But this story is about the one that nearly got away! The next morning I was presented with my lost lure. The hooks were mangled and the lure looked as though it had been in a meat grinder. The guys had gone back out and found the snapper hiding in the wreck. They speared it and estimated the weight at 25lb. It fed a family get together of twelve. The braid had broke just two inches above the wire trace.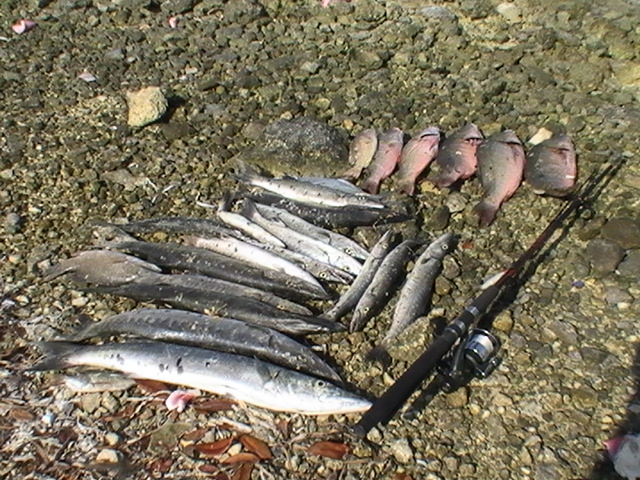 Another trip with my friends Juan Carlos and George to the causeway to Cayo Santa Maria saw us with 15 barracuda and several red snapper, a cracking day out. My best fish was a Cubera Snapper. They have two vampire like teeth on the top top jaw,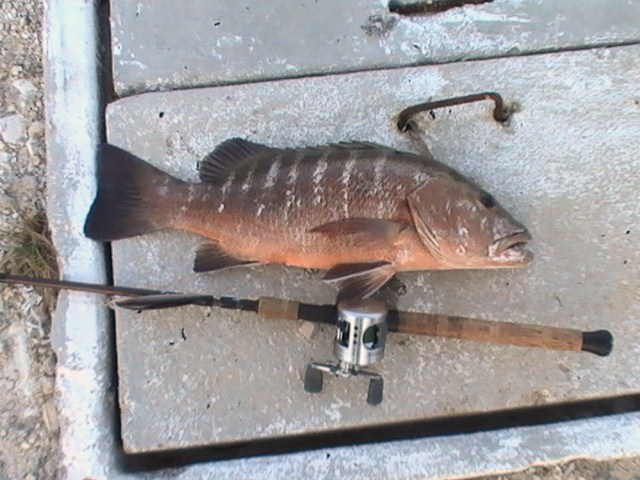 when I got mine in it only had one. I found out why later. I caught it on a Rapala saltwater X rap. This is a floating lure, or rather was, the cubera had bitten a pin hole in the hard plastic and broken it's tooth off turning it into a water laden sinker. Everything there has a serious set on dentures! I f you would like a day out with Juan Carlos he can be contacted on ileinyjohn@gmail.com see my previous Oasis Playa Coco page for more details.
I think Mark Wheeler had the catch of the week. I met Mark when I was fishing for and catching bonefish on the fly in front of the Hobie cats. He said he had he liked to fish. I had bought a kit from Lidl , it was a carp outfit ,telescopic rod, reel, hooks, weights, disgorger, spare line and all for £15! It got it to give away to Adel to catch bait fish. A cheap outfit like this could not handle anything decent!? Wrong! I lent it to Mark

and he spent most of his time up to his waist in water catching small cubera snapper, gronko and yellow fin snapper from the reef outcrop in front of the hotel. I was on the beach chatting to AAPGAI fly fisherman Derek Turner about his 70lb Tarpon caught from a boat ,on the fly during a guided trip off Cayo Santa Maria when I noticed the Lidl rod with a serious bend. Fifteen minutes later Mark was wading ashore hugging a beautiful red snapper. His grin could have been seen in Havanna! The locals could not believe such a fish was caught on a size 8 hook to nylon. My reward for loaning him the rod (apart from seeing that grin) was a share in the meal it provided in the beach restaurant, fantastic.
Below are some more pictures of catches from this wonderful fishing area in the Cayos of Cuba.