June 2002
Venue: Melia Cayo Guillermo
Another great two weeks in sunny Cuba, and a personal best Barracuda of 20lb caught from the Pasarella Hemmingway, a pier on the beach in front of the Melia Cayo Guillermo Hotel. Just a short stroll past the ornamental ponds containing tropical fish, from my room.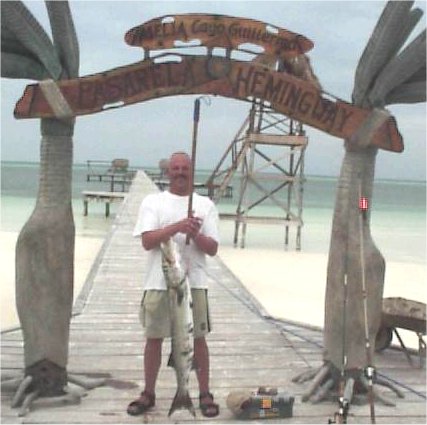 This year I concentrated on fishing from this newly rebuilt pier. Last year the pier was slightly longer but was blown down in the October hurricane. It is now nearly complete and has huts out over the water, a cool shady spot with swinging seats and hammocks.
Walking out on the pier you can spot many different species of fish. Most prolific are the Yellowfin Mojarra, The mojarra are great fish for bait. They are silver in colour with some grey mottling, the two Barracuda I caught came to a mojarra live bait, and the fillets are the favoured bait for Red Snapper ("Pargo"). Mojarra love shrimp ("camarone") and may be caught on a ledger or float.
Unfortunately I did not get any snapper although I did see some caught by the locals on the bridge near the hotel, on the morning tide when we were leaving in the coach, (see pics below) they were double figure fish.
I went to the bridge one evening with my friend Yosmany who is one of the waiters and mad on his fishing. The locals use hand lines and thirty or more were already out and baited when we arrived at about 6pm. The tide was just on it's way in and we fished until sunset. Sadly the snapper were not biting, just four "wawancho" (small Barracuda) and the mosquitoes.
The staff at the Hotel are very friendly and Yosmani gave up his day off (they get one day per week) to fish with me on the pier. We were both very pleased with the first decent sized Barracuda (about twelve pound) of the trip. As indeed was Kiki the chef!
As I have said before, a great venue if your wife wants to sunbathe and you want to fish. If you go, say hello to Yosmany (nickname "Pacha") from me!
Click on a picture to open in large view, click the back button on you browser to return to this page
I am waiting for more pictures to be developed, If you want more information email me.
Click here for resort pictures
The main species are,
| | |
| --- | --- |
| Local name/English name | Description and bait |
| Mojarra / Yellowfin Mojarra | As above |
| Ronko / Blue stripped grunt | small voracious fish, yellow with horizontal blue stripes and a bright red mouth, grunts when caught. |
| Horell / Rainbow Runner | Small plugs and spinners |
| Iguhon / Atlantic Garfish | Much like our Garfish, up to four foot in length, with long thin jaws lined with needle sharp teeth. Small flies, lures or retrieved baits |
| Escribano / Half beak | Similar to the Garfish but with a yellow tail and as the name suggests only a lower bill with small mouth above. Baits as Garfish. |
| ? / Barracuda | see pictures above |
| Pekita / Cowfish | You will know if you get one of these, looking at them face on they are boxlike in shape with two horns. the flesh is said to be as good as lobster. Can be caught on fish baits, squid, shrimp and jelly worms. |
| Toro / Crevalle Jack | Small plugs spinners and float fished baits. |
| Savalo / Tarpon | Flies, skitter pos and prawn baits |
| Pargo / Red snapper | Lures, fish baits, whole camarone. |
| Macabi / Bonefish | Chartreuse Crazy Charlie on fly tackle or shrimp bait. |
Cuba entry page....May 2001....June 2003
If you found this page through a search engine click here for the main site
---